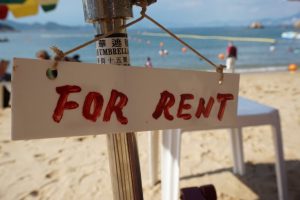 Rent
This is where the families move into the building that we fixed up.  This is truly when a house becomes a HOME!  When a child asks if the side yard is theirs too, you will feel the joy of providing a home to someone who may be moving up a step in their standard of living.  This may be the first time they could play in a yard of their own.  The first Christmas I drove by and saw that same child's yard full of inflatable, light-up yard decorations, it was a surprisingly emotional sight.  I thought about the fact that this child's parents could have these things and this kid could really experience a new aspect of Christmas.  This is why we call our business Home Again Properties.  We get to turn these houses into Homes again.  And you can too!
The steps I describe here are what have worked for us.  This is not the only way to list properties; just what we do.  We look on Zillow and Realtor.com to see what similar properties are renting for.  This provides pictures of the "competition".  Remember that if they house down the street is renting for 1100 dollars but it is outdated and yours is similar in size but is updated, you may be able to command a premium for it.  We also call all the mom-and-pop type "For Rent" signs in yards.  While we are working on the house and while we are learning any area, we call these signs.  This adds to the knowledge we have of pricing for rents.  If you only use the online listings, you will be missing an important segment of the market—those who don't list on the internet.  With sales listings the comps are pretty accurate because the majority of sales are listed on the MLS, and by proxy, on the aggregator sites such as Zillow, Redfin, and Realtor.  With rentals, many people but a sign in the yard with handwritten phone number etc.  You can get great info by calling these.  And don't forget to ask if they have any interest in selling.  It doesn't hurt and all they do is say "no".  This could lead to a great deal—especially if they are tired landlords.  
Listing Your Rental
We also place a sign in the front yard.  We then put the listing up on Zillow rental manager, which puts it on Zillow, Hotpads, and Trulia.  We have used Craigslist in the past but haven't done this lately.  This is all free.  Veronica has her license and we still don't list on MLS.  It is customary to pay the realtor a fee of a few hundred dollars if they bring their client to your listing.  While we aren't against this, we haven't seen the need to pay that when demand is plenty strong by advertising by way of these other methods.  
Showing Your Rental
When we started out, we'd show the house to each prospective renter at their convenience and on their time frame.  What happened was a lot of no-shows.  Then we would have wasted valuable evenings or weekends with our kids.  While we still do our own showings, we do group showings.  Our kids are often with us, as this is a family business.  When people call to inquire about the listing we tell them when the scheduled showing is.  Usually a late afternoon or midday Saturday when most people are available.  Then they can all come at the same time.  Our kids greet them and show them around and hand out business cards and any necessary paperwork if the visitors want an application.  If four or five families say they will show up it is way less likely to have all no-shows.  This also creates a bit of urgency if the house is nice.  People who may have left to discuss it may be more likely to fill out an application to be first in line – if others are also showing interest.  Because we've made the house attractive and renewed, others generally will be expressing their interest.  This doesn't bind the applicant to our house but it does get them first position in line once they pay the application fee. 
Screening Applicants
One of the great things about being an entrepreneur these days is the amount of online resources available.  Screening tenants is one of the areas where technology is a huge help.  We charge each applicant over the age of 18 a 40 dollar fee which in turn pays for the background checks to vet them.  We currently use e-renter.com but there are a lot of options available.  If we have several applicants and the first or second passes our background screening, we will refund the money to the others because, well, it's the right thing to do.  We believe that when you treat people well, and are kind, that the world smiles back at you. 
We call all of the references to include employer, current landlord, and previous landlord.  We ask the employer to verify that the tenant earns the required amount to qualify for our property (3 times the monthly rent).  We don't allow any evictions or bankruptcies in the last seven years.  Credit is checked.  If credit is subpar, we may require a larger deposit to compensate for the added risk to us.  
This is an area of the business that requires some study to comply with all the fair housing laws.  The best policy is to treat everyone fairly and to, obviously, never discriminate.  The struggle is that tenants are rarely an "apples to apples" comparison.  One will have higher income and the other will have a higher credit score.  Going in order of applications received and accepting the first one to pass your requirements is one way to avoid this situation.  
When we started out, we had our credit requirements too high.  We lowered them when we realized that a lot of tenants would be buyers if their credit was better.  They made plenty of income but had some financial scars lingering on their credit report.  We still require a larger deposit when the prospective tenant is below our threshold. 
Educating The Tenant
Once the best applicant is selected, we notify them and meet them to get their deposit and first month's rent.  We don't remove the sign from the yard or the listing until we have the lease signed and have received the deposit and first month's rent.  When we set up this meeting we ask that the tenant allow for about an hour-long meeting to discuss the lease.  We read over it and explain each section and describe who is responsible for what.  We give examples of "emergency" repairs and "non-emergent" repairs.  We discuss who is responsible for things like pest control and lawn care.   I recommend taking a copy of the lease to the tenants to leave with them to refer to for any questions.  Then we email them the signed copy after we get home and scan it.   
Starting a New Business Relationship
We also bring the new tenant a potted flowering plant and a 50 dollar gift card to Home Depot or Target to help them get settled in to their new HOME.  We also use language such as "your new home" to give them the sense of ownership.  We want these tenants to see this as their Home and stay for as long as their life situation allows them to.  We feel that these housewarming steps begin the relationship on a positive note.  This does not mean that we are soft on deadlines.  We are very firm on due dates.  We know that human nature tends to make us test our limits.  If we bend the rules for the due date once without a late fee, the next month there will be another excuse.  If this sounds callous, then feel free to not take my advice.  This is tough for me as I can be a bit of a "bleeding heart" but I temper that with the fact that I also have a mortgage to pay and that I am providing a great home for the Tennant.  In other words, I am upholding my part of the agreement.  And this house represents my family's security.  My responsibility to my family helps me hold firm when I am tempted to give in to the excuses for late rent.  The reality is that only a few tenants have tested this and after one late fee, they usually don't test it again.  
After all of this, we hand them the keys and welcome them Home.  We take the water and electricity out of our own name so that they can begin service in theirs.  We may not hear from the tenant again for months.  Payment is set up online and we never have to chase tenants to get money.  The first of the month changes quite a bit when you start receiving rent payments.  You start to look forward to checking the bank account to see those deposits.  We let the cash flow pile up for any repairs and then for a cushion as we start looking for our next project.  If we have money in the bank, we don't stress out when we get a call for a repair.  It IS part of the business.  So expect it.  All businesses have expenses.  This is why we want a few hundred dollars of cash flow after we pay PITI (principal, interest, taxes, and insurance). 
This part of our business took some time to learn.  I hope these tips may help you to shorten the learning curve.  Let me know your thoughts in the comments below.  And keep on "keeping the main thing the main thing."